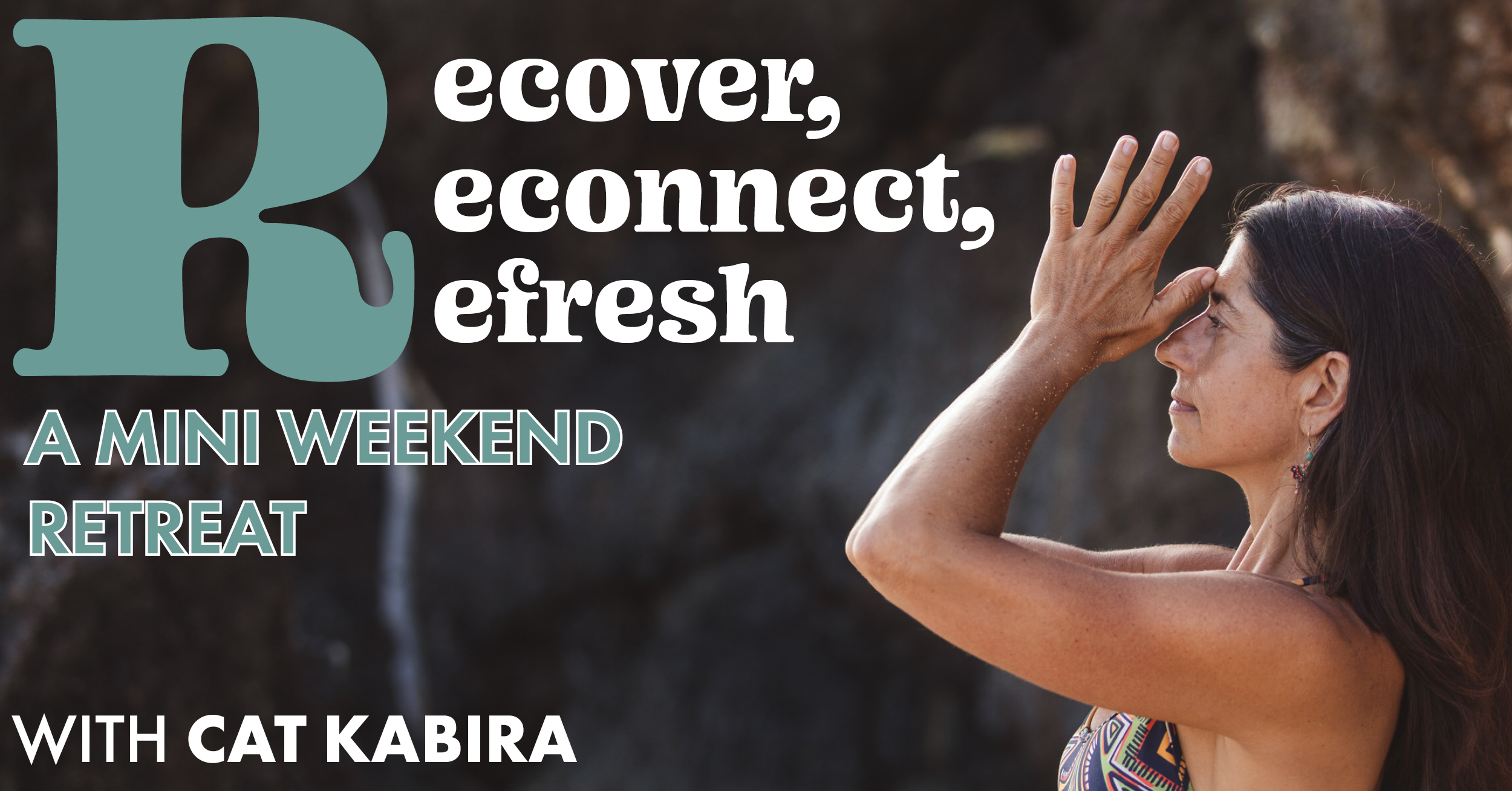 A mini weekend Retreat with Cat Kabira
Recover, Reconnect, Refresh
March 10-12th
3 days of deep energy work, yoga, movement, play, multidimensional awareness and a reset for your expansion. A creative empowered way to support your chakras.
Are you looking for a refresh? Do you feel disconnected from yourself? Are you experiencing blocks in your life? Whether you're a complete newbie to yoga and energy work OR a very seasoned practitioner, this space is for you.
This March city-mini-retreat is your time to let go of the things that you're ready to shed, create embodied vision for a spectacular new beginning, in a multidimensional level rewire patterns that may be blocking you or keeping you trudging in circles. 3 days to make positive change in your life. For real. You can come for one day or all 3 (of course all 3 means you'll benefit the most).
Here's how you can play for these 3 days:
Friday – The Drop In and Our Ancestors
This is our grounding pad where you'll land into yourself. Maybe it's been a day or a week or some months or a year where things have been swirling, spinning and fragmented. This is your space to come back to you. We'll practice deep meditation, a creative dynamic (and slow and subtle) yoga practice, and a powerful energetic vision to set the tone. Come in with an intention that's meaningful to you and something you want to create in the next 6-12 months to come. This includes an energetic practice to connect with your ancestors. The magic we're working with is real. Make space to rest and digest and let the magic and energy percolate in the evening.
Saturday – The Rewire
Not that you need any fixing. You're perfect as you are even if you forget it. The primary practices here are 2nd and 3rd chakra: all about boundaries, personal power, where you may neglect/forget about yourself. Energy management. How do you thrive? Where do you lose and scatter yourself? What are some practical energetic practices that will keep you in your center and not distracted or affected by other people or environments? This is the place to build your fire and spark your passion. We'll do some movement to help you ground into these areas, energy practices to connect you in a way that you may never have sensed yourself before, and subtle and dynamic ways to rewire the blocks in your energetic field. This includes a new way to work with the energetic cords in your field. You'll thrive in the collective environment as you delve into your personal work.
Sunday – Evolution
The day to integrate and set the tone. The vibe of today is sweetness, play, creativity and empowerment. New movement and yoga practices to keep you connected to your multidimensional self. Exquisite energy practices to make space in your heart, throat, third eye, and whole being. Discover the stories holding you back and remember that you're more than just a story. This is your space to claim your aliveness, your fun. Part of our power is remembering our delight and pleasure. Let joy be your best boundary and your heart your most
reliable compass. This is a co-creative dynamic weekend as Cat's talent is to read the energy of the room and deliver the words, practices, and energy to meet you exactly where you are.
Part of what you'll experience this weekend: a deep ground and connection to yourself that's either new or one that you haven't had in a long time. A coming back to yourself and your exquisite essence. A new sense of your own space and boundaries on an energetic, emotional, mental and physical level. Shamanic practices such as working with your ancestors and cords in a safe way. An
upleveling of your own energy management so that you can choose what's best for you. A deepening into your own heart. Extra bonus: Understanding where addictions may come in to play and how to healthily manage them. How to manage your highly critical self and or perfectionist nature and new ways to play with control.
The weekend will be building on the momentum of each day so if you can make all 3 days, this will truly be a game changer. Can only make one or two? We want you any time you can show up. Make this work for you so you can take this time to thrive as you. See you on the mat!
For these 3 days: Bring a journal to mark down those moments of insight, wisdom and inspiration.
No experience needed. Come prepared with some intentions of how you want to shed, grow, play or expand in these upcoming 6 months to 2 years.
Friday March 10th: 16-20
Saturday March 11th: 14-18
Sunday March 12th: 12-16
Price:
Single workshop 500 SEK new Folks / 400 SEK for members
Full course 1200 SEK new Folks / 1000 SEK for members

Book