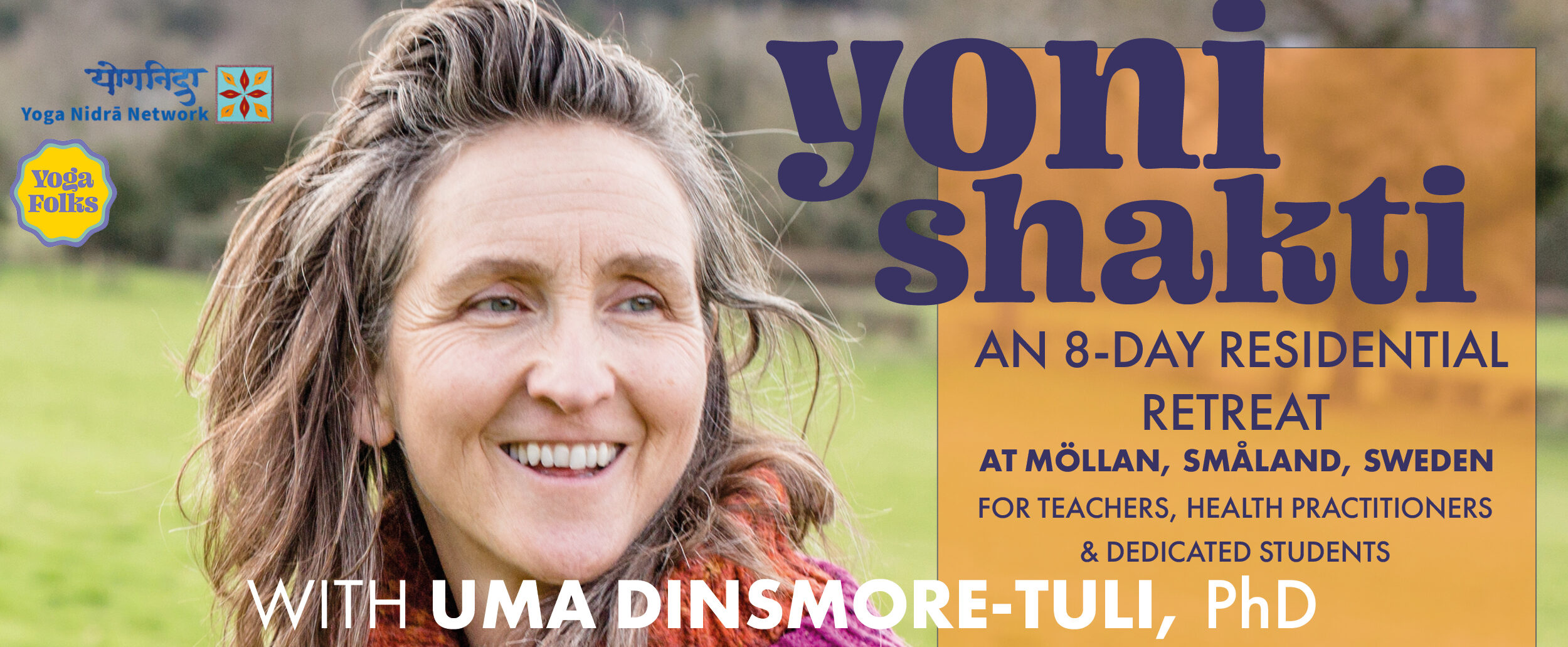 Yoni Shakti Well Woman Yoga Therapy Teacher Training Retreat
Welcome to our residential retreat and training with Uma Dinsmore-Tuli
at Möllan Retreat, Småland, Sweden.
2-9 October 2023
PRICE: 19.700 SEK Early bird price until June 1st
Regular price 22.700 SEK
Payment can be made in instalments
Welcome home to your rested self.
Welcome home to the restoration of your rhythmic cycles of wellbeing.
Welcome to a circle of belonging that nurtures women's health and vitality.
Welcome to yoga that honours the female body in all its rhythmic cycles.

Warmest welcome
This 8 day-training course is delivered live in person by Uma Dinsmore-Tuli in the forests of Småland. You will also receive lifetime access to pre-recorded video and audio material to support and consolidate your learning. The training course is a collaboration between Yoga Nidra Network, UK, and Yoga Folks Studio, Sweden.
This is a very special opportunity to experience this course in person with Uma in this sacred place in the south of Sweden, and we are very excited to welcome you.
In this course, you will:
Sit in a circle of belonging with yoginis from around Sweden and the world.
Develop a daily Yoni Shakti Yoga practice
Experience two Total Yoga Nidra practices a day
Have opportunities for questions and discussions with course leaders
Receive practical guidance for your personal practice and for utilising Yoni Shakti Yoga Therapy in groups and in 1-1 therapeutic situations
Enjoy structured learning
Receive a printed comprehensive 115 page course manual
Gather in small mentoring groups held by an experienced tutor
Receive access to our friendly and accessible online learning sanctuary
Benefit from long term access to top quality teaching videos
Get access to the Yoni Shakti Bookclub
Be nourished by delicious, home cooked vegetarian (with vegan option) food 3 times a day, breakfast, lunch and dinner. Fruit and snacks available between meal times, bottomless coffee and tea.
Upon completion of the course, you will get:
A certificate of graduation
Lifetime access to our Graduate Circle
The opportunity to be listed in Yoga Nidra Networks Teachers Directory
What will I learn?
Conscious respectful awareness of menstrual, menopausal, and other life cycles form the foundation of this approach to yoga therapy for women's health.
Therapeutic and enlivening yoga practices to support all experiences of femininity throughout a woman's life, including menstruation, fertility, sexuality, perimenopause and post-menopausal health concerns.
Therapeutic understanding of emotional life, lunar cycles and the play of the elements in the female body.
Practical tools from yoga therapy and tantric philosophy to help you to build programmes especially suited to the needs of women seeking full vitality and well-being.
Asana, pranayama, mudra, bandha, deep relaxation and profound meditations including yoga nidra, sound meditations, moving meditations, visualisations and chants to the deep feminine.
How to integrate the presence of the Dasa Mahavidyas, the ten wisdom goddesses as guardians for this work.
Is this course right for me?
This course is primarily for yoga teachers and yoga therapists, but our circle includes many who are not yoga teachers. We extend a warm welcome to non-yoga teachers with a specialist interest in women's health at all stages of life, we especially welcome holistic health-care practitioners, working in the field of women's health, who have a sound yoga background and would like to integrate yoga into their practice.
*** You must have completed the pre-requisite Yoni Shakti Online Immersion course before beginning this course. ***
About the teacher

Uma met yoga in 1969, at the age of four, and fell in love. She's been practicing ever since, and teaching yoga since 1994.
A yoga therapist with special expertise in yoga therapy for women's health, Uma is a mother of three, and has written four books on yoga for women, including the massive Yoni Shakti, and two books on Yoga Nidra, including Yoga Nidra Made Easy (Hay House 2022) and Nidra Shakti, An Illustrated Encyclopaedia of Yoga Nidra.
Uma works internationally, sharing yoga retreats, trainings and empowerments that support the natural arising of prana shakti: the power of life. She trains specialist teachers in Total Yoga Nidra and Yoni Shakti Well Woman Yoga Therapy for menstrual and menopausal health, pregnancy, birth, and postnatal recovery.
Uma is certified as a Yoga Therapist by the International Association of Yoga Therapy. Her diplomas in Yoga Therapy are from the Yoga Biomedical Trust, and the late Mukunda Stiles (Structural and Ayervedic Yoga Therapy). Her initial yoga studies were with Iyengar and Satyananda yoga teachers and her continuing inspiration is the 'Feminine Unfolding' asana practice shared by Angela Farmer.
She is co-founder of the Yoga Nidra Network and has developed Total Yoga Nidra, Wild Nidra, Yoni Nidra and Nidra Shakti: radical creative and intuitive approaches to sharing yoga nidra.
Uma's passion as a writer and as a teacher is to transmit clarity of awareness, creativity and profound vitality. She identifies these teachings as "post-lineage" yoga, rooted in yoga tantra and drawing on a variety of yogic traditions to share deeply nourishing and enlivening practices appropriate for contemporary life.
Her practice and teaching respects the cyclical powers of the living earth, and honours human life cycles as spiritual initiations (including menarche, conscious menstruation, menopause, birth and postnatal recovery).
Booking
The cost of the retreat is 19.700 SEK inc. VAT if booked before the 1st of June, regular price is set at 22.700 SEK.
The cost of the retreat includes the tuition, a manual, food and beddings (3 meals a day + snacks + coffee/tea, bed in shared room). It does not include the travel to/from the retreat place located in Åseda, Småland, Sweden.
Registration fee is set at 5000 SEK and is non-refundable, full payment can either be paid in one invoice or divided in instalments – after sign up you will get an email from us to start the conversation on how you want to pay the remaining cost.
Booking is binding, but can be transferred to someone else if you find someone who wants to buy your spot.
In the case of too few sign ups we have the right to cancel the event before Aug 15th, as soon as we have a group signed up we'll let everyone know and you can book your travel safely. In case of cancellation you will get all your money back, including the registration fee.
Travel
You need to get to and from the retreat on your own, we are happy to connect students from Stockholm for co-driving.
Möllan Retreat centre us located in the south of Sweden, around 6 hours drive from Stockholm, 4 hours drive from Copenhagen. It is also possible to take the train from anywhere in Sweden or Copenhagen (download the app "SJ" + "Länstrafiken Kronoberg" to find the cheapest train tickets) and then the bus to the town nearby called Åseda, from where you can organize to be picked up in car.
If you come by air you can fly to Copenhagen, Malmö or from London straight to Växjö Airport.
Address: Höghultström 2, 360 70 Åseda, Sweden
Book