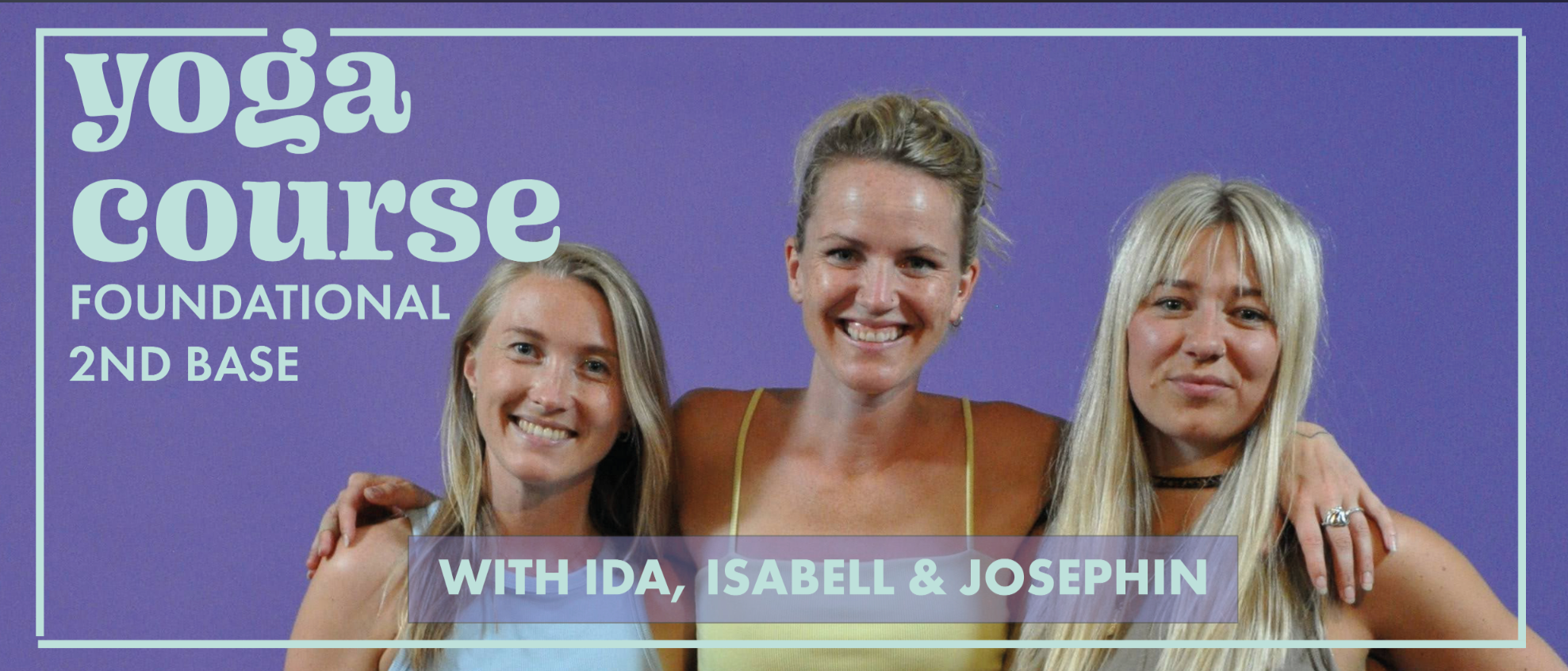 Yoga Foundational Course – 2nd Base
Hola gorgeous, for the fifth time we are offering this course – filled with knowledge, fun insights and community building!

This 4 day course is designed for anyone who's looking to establish their own self-practice and learn more about yoga, or it could be as a preparation for applying to our 250 hrs training.
Feeling like you wanna take the next step, from "just" practicing yoga – to learn more about what is all about?! During these 4 days together you will get a steady foundation from which to continue your yogic path – however that looks!

Josephin, Ida and Isabell are experienced facilitators and teachers with background in yoga philosophy, history and technique. Josephin is the founder and lead teacher of the 250 hr teacher training, a certified massage therapist and been teaching for over a decade. Ida is a physiotherapist student, a certified yoga therapist and have been teaching yoga for many years in different countries. Isabell is the co-founder of Yoga Folks and has been practicing yoga with great dedication for the last decade. She has her teaching background in Vinyasa yoga and is a forever student of anything regarding to meditation and energy.

Dates
4-7 Jan
Thursday – Sunday 09.00-16.30

Why take a Yoga Foundation course?
– Settle into your own skin, get to know what are your layers and get down and groovy curious about what is going on within.
– Experience being together in a community, to find a belonging and a place of connection.
– Get to know the lingo, the rituals, the habits of yoga. In a practical way, you will learn and become familiar with the sun salutations, breathing techniques and meditation tools.
– Foundations of vinyasa yoga.
– Modifications of asanas for different bodies.
– Familiarize yourself with the sutras, philosophy and the Eight folded path – Understand the intention of having a daily practice and routine
– Explore the bandhas, light touch on anatomy and physiology.

Testemonials
The 2nd base course provided me with the toolbox I needed to dive deeper into my yoga practice. Not only did it allow for a deeper asana practice but was also a great way to dip the toes into the world of yoga philosophy and anatomy. The weekends were inclusive, warm, fun and I left with a ton of new knowledge and experience, so many Aha moments. Looking back it was actually the catalysator for many new and exciting things to come. Held in a beautiful space with amazing teachers, I wish I could do it all again, INSPIRATION. – Josefin, 1st course

The 2nd base course was an absolutely perfect way to continue to discover yoga!
For years I had been collecting all this information – in classes, from different teachers, in different types of practices, through different experiences they gave me – about this mythical thing called yoga… 2nd base was a golden opportunity to ask ALL the questions and get real nerdy about it! A luxury you never fully get in class.
Digging into the basics of anatomy and philosophy, getting real nitty gritty with some foundation poses, practicing, crying, laughing and sharing… it's enough to make your head spin out a little while inviting a new sense of stability. At least that was my experience.
Last but not least – you get to experience all this in a gorgeous studio that quickly feels like home, with incredibly knowledgeable and kind teachers and a community that embraces you.
P.s. and if you're considering teacher training but aren't yet convinced, I started mine the following month (after 2nd base)! – Karolina, 3rd course
Price
Members: 4000 SEK
New folks: 4990 SEK

Please send an email to hello@yogafolks.se should you like any further advice about this program before registering. This program will form the necessary foundation if you want to apply for the Yoga Folks 250hrs training.
Book