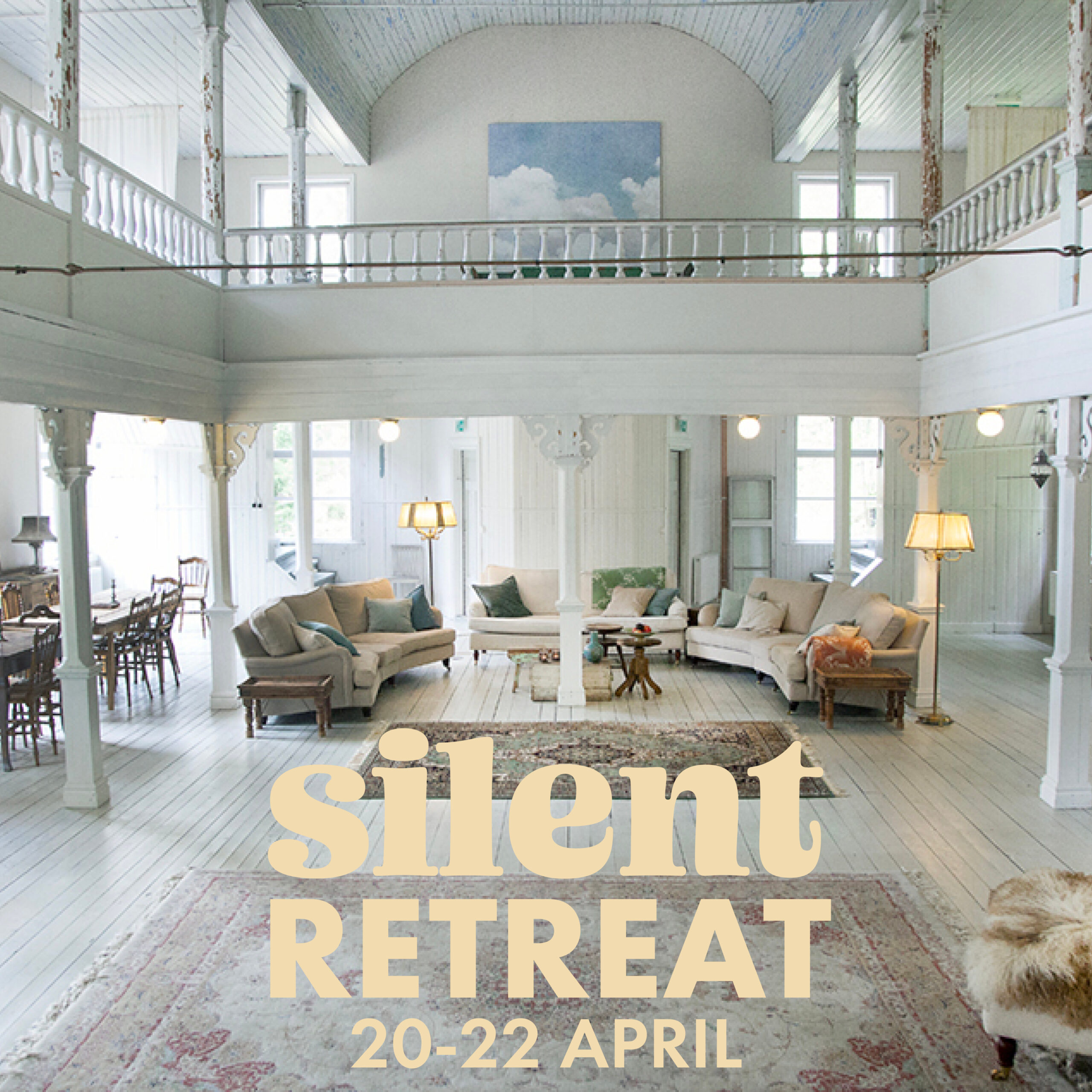 YOGA FOLKS SILENT RETREAT
Yoga Folks x Liljero⎟ Silent Retreat
Ssshh, tread lightly dear friend. Silence ahead!
This is an invitation HOME, a weekend to drop into the silence within and explore what it will tell you.
We are taking over Liljero retreat center for a weekend of quieting down, soft movements, journaling, different types of meditation, heart warming vegetarian food, forest baths and community building.

INCLUDED:
• Accommodation 2 nights
• All meals (breakfast, lunch, dinner, snacks)
• All the yoga gear
• Notebooks

SCHEDULE:
Friday:
17.30 Check in
18.00 Dinner
19:30 Ceremony & stepping into silence
21:00 Sleep
Saturday: (all day silent)
07:00-09:00 Morning yoga & meditation
09:15-10:00 Breakfast
10:30-12:00 Free time, nature walks
12:00-12:30 Shaking meditation
12:45-13:45 Lunch
13:45-15:30 Free time,
15:30-17:30 Yoga nidra & restorative yoga
18:00-19.00 Dinner
19:30-20:30 ​Story time – Gods & goddesses
21:00 Sleep
Sunday:
07:00-09:00 Morning yoga & meditation
09.15-10.00 Breakfast
10.30-12.00 Workshop – Breaking the silence
12.30-13.30 Lunch
13.30-15.00 Walk in nature together
15.00 Cleaning and leaving

TRANSPORTATION:
By car, 1.5 hours, we are happy to put you together for co-riding there and home.

ABOUT LILJERO:
Liljero Retreat is an old chapel, a red big house with white trim, placed close to the forest of Tärnsjö. We will have our classes and sessions in the big spacious room, high ceiling and wooden floors.
Taking the stairs one flight up you get to the beautiful sleeping loft, where we sleep separate, but together.
You have the option to participate in all the activities, or spend time on your own. We recommend you do not bring any books or podcasts, instead enjoying the silence – offline mode with the outside to go online with the inside. A notebook or journal can help the process, scribbling down thoughts and feelings that arises. We are so used to always being entertained, this will be a practice of closing off impressions and stimuli.
Food will be organic (as far as possible), fresh and delicious – yet in the simplest form. There will be both vegetarian and vegan options, allergies will be taken into account of course.


PRICE:
3.400 SEK
Bring your own sheets/towel, or rent for 250 SEK.
Full payment upon booking. No refunds.
TERMS & CONDITIONS:
Info will be updated continuously regarding the pandemic situation. Most certainly, we adapt accordingly.
The booking is binding.
If you must cancel due to injury or illness, a doctor's certificate must be presented.
If the pandemic situation changes for the worse, the conditions change consequently.
You can transfer your booked slot to someone else if you cannot participate. If this is the case, an email must be sent to hello@yogafolks.se with information about the person replacing you.
Participants must have passed the age limit of 18 years.
Registration is done via website, questions are sent to hello@yogafolks.se.
Book