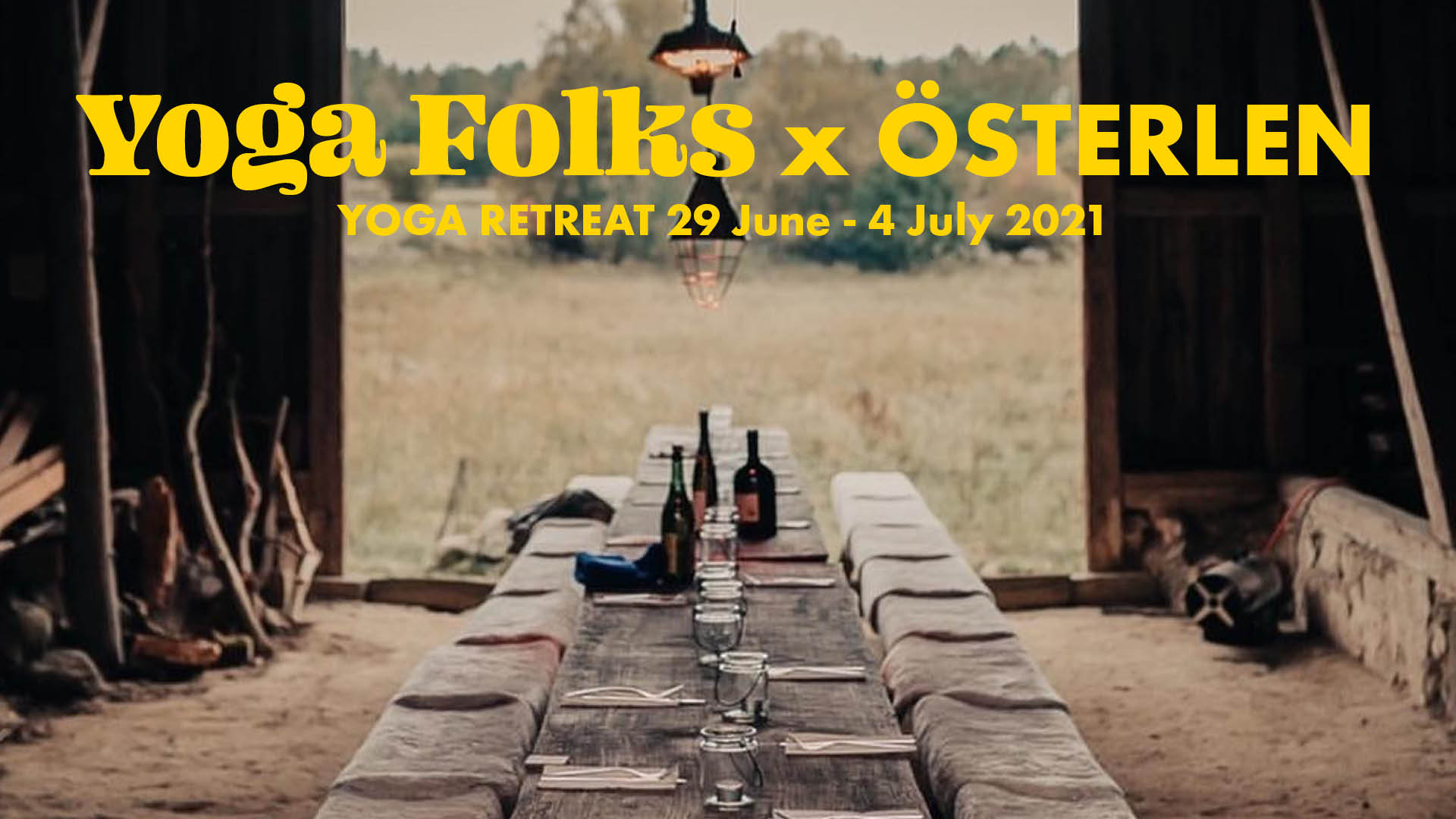 All-Inclusive Yoga Retreat
Yoga Folks x Österlen 29/6-4/7
Our most buzzing, humming, excited, delicious KARIBU SANA & WELCOME to this summer's BREEZIN' YOGA RETREAT together with Yoga Folks!
We have gathered our favourite drills, dances and disciplines into this spectacular whirlwind of indulgence where we'll nestle in the lush nature habitat of Fiskabäck, enjoy our yoga practice in the outdoor dome-shala, share dinner conversations in the picturesque barn, snuggle up in circles around the hearthside – all in all surrounded by the fields of Brösarp (google it, Bonny). We might even breeze our way down to the beach. Field trip, baby!
The days will be filled to the brim with:
– Yoga
– HIIT-training
– Yoga Nidra
– Meditation
– Writing and reflection
– Dancing
– Beach babes
– Sing-a-long nightfall
– Breezy long days
– Soothing warm nights
– Loads'n'loads of proper hang outs
MAKE SURE TO BOOK AS SOON AS bloody POSSIBLE TO ENSURE YOUR PLACE! We have SUPER LIMITED amounts of spots.
Registration is done via form below , questions and other groovy inquiries are sent to hello@yogafolks.se.
***** SCHEDULE *****
What a breezy day could look like:
06:30 Wake up you badass, beautiful beast!
07:00-08:00 Morning yoga sequence
08:15-09:30 Breakfast
10:30-12:30 Morning lecture
12:45-13:45 Lunch
13:45-15:30 Free time / writing time
15:30-17:30 Afternoon session
18:00-19.00 Dinner
19:30-20:30 Free time / ambient session
21:00 Sleepy time, you little disco ranger!
***** WHAT'S INCLUDED *****
– Accommodation (Dorm or Shared double), 5 nights
– All meals (breakfast, lunch, dinner)
– Yoga mat
Our very own spectacular Chef de cuisine will serve us mouthwatering mama earthy (plant based) foods all week.

Check in: June 29, 16:00
Check out: July 4, 11:00
***** PRICE *****
The retreat is all-inclusive, and the price differs depending on choice of accommodation:
– Dorm (9 000 SEK)
– Shared double (10 000 SEK)
An initial payment fee (deposition) of 50% of the total cost (4 500 SEK / 5 000 SEK) is paid a deposit invoice and the other half must be paid before 28th of May 2021.
After signing up you will receive an email to the email address you have provided. The second installment can be paid at any time before the 28th of May.
***** WHAT'S NOT INCLUDED *****
– Means of transport to/from retreat center
– Excursions in the Österlen area
***** ABOUT *****
ABOUT YOGA FOLKS:
We are a bunch of folks that are crazy passionate about sharing the practice of yoga, in our most blazin', own way. If you have encountered us before you know that we do way more than "just yoga". In our team of Yoga Folks we've got artists, musicians, lovers, poets, photographers, skaters, bonsai botanists, philosophers, dog walkers, digital ninjas, surfers, interior designers, night owls, early birds, disco dancers and other creative creatures and unusual suspects on board.
Josephin Jansson, Karin Åhgren and Fredrik Edlund have all been swimming in the yogic waters for many years, and together created Yoga Folks as a place for creation, movement, introspection, connection and for going deep. Peak into our Instagram and Facebook-turf to acquaint with each and every single one of us
ABOUT FISKABÄCK:
This beautiful 18th century farmhouse called Fiskabäck in Österlen is located by the Christinehof ecopark and surrounded by waterfalls and Brösarps backar. The center is also situated 15 km from the beach Haväng. We will be practicing yoga outside in the breathtaking dome. Evenings will be taking place around the open fireplaces indoors.
***** HOW TO GET THERE *****
TRAVEL BY CAR:
Put "Christinehofs slott" or "Bertilstorp" into your GPS, depending on where you travel from. When arriving at one of the destinations, change the address to "Verkasjön" in your GPS, upon arrival at Verkasjön please put "Fiskabäck 103" which will take you to a private gravel road. This 2 km road will take you all the way to the retreat center by the end of the road.
TRAVEL BY BUS:
Travel to Brösarp bus terminal where we can pick you up by car (can be arranged ahead).
***** TERMS & CONDITIONS *****
Info will be updated continuously regarding the pandemic situation, and we are by all means adapting accordingly.
– Your place is NOT guaranteed until the deposition has been paid.
– The entire payment must have been registered by the 28th of May.
– No refunds. The booking is binding.
-If government restrictions deny us execution due to pandemic of the retreat payments will be refunded.
– If you must cancel due to injury or illness, a doctor's certificate must be presented.
– Participants must be more than 18 years (filled), or 16 years together with a parent or guardian.
You can transfer your booked slot to someone else if you can not participate. An email must be sent to hello@yogafolks.se with information about the person replacing you.
***** PANDEMIC NOTE *****
If the pandemic situation changes for the worse, the conditions change consequently.
***** ***** ***** ***** *****
We are swoon for this heartwarming-breath-calming-feet-razzling adventure, and cannot wait to finally drop our bags in Fiskabäck garden oasis together with you. COWABONGA! Pack your Elton sunnies and most colorful yoga gear, Caramel. We are buzzin' to see you in June, hoping you are joining to re:TREAT YO'SELF.
💋BESITOS💋
/// Karin & Fredrik
[wondr url="/w_application/applicants/form_view/604b28d2-fcbc-4a58-8a61-121c0a10030e/"]