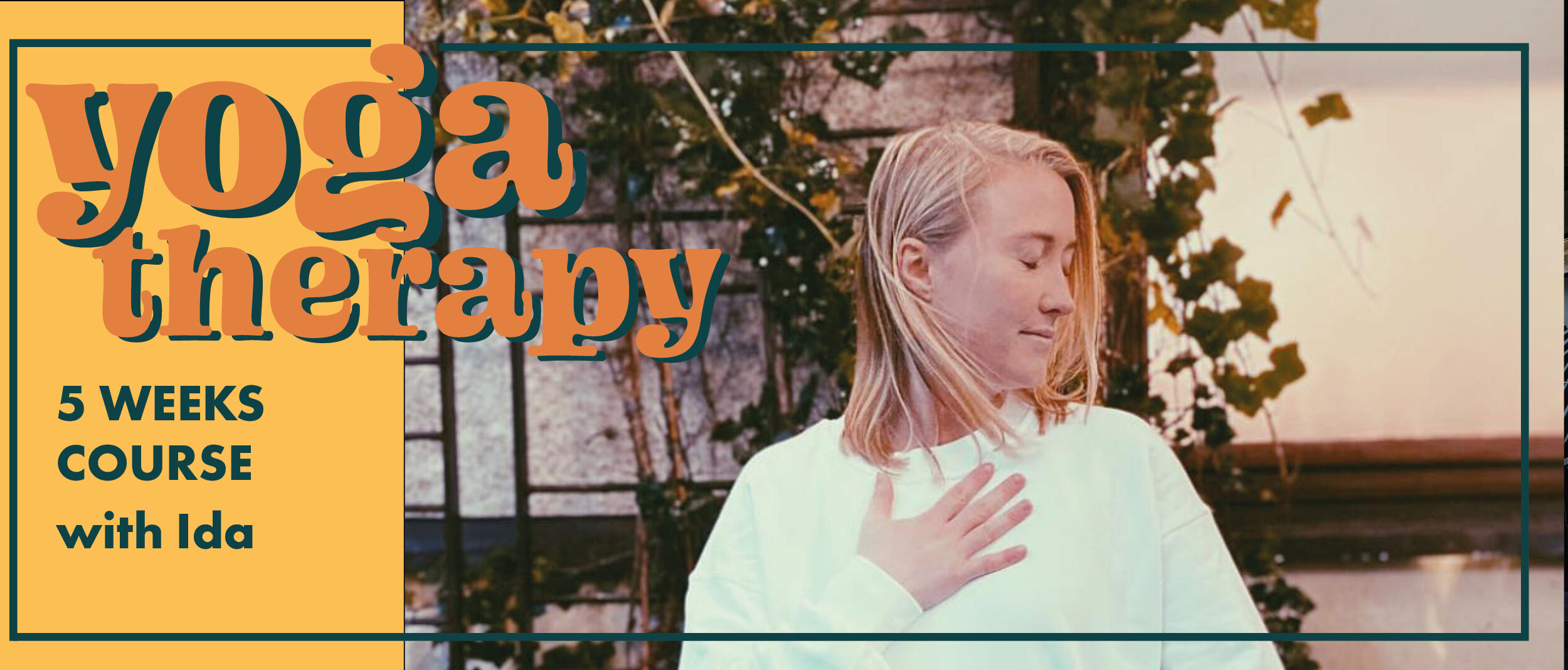 Yoga Therapy Course – 5 weeks
Thursdays 6 okt-3 nov
19.30-21.00
Sweet friends!
Yoga Folks is now opening up the doors for a 5 week course for recovery and stress management with the yoga therapist and yoga teacher Ida Farneman.
Based on the foundations of Yoga Therapy, the course will provide powerful tools for you to find your way back into the body, to regulate your nervous system and get a taste of how you can create a more peaceful and centered life for yourself.
What to expect?
The course will include educational aspects, soft and restorative yoga asana, yoga therapy balls, calming pranayama (breath work), and plenty of guided relaxation. Individual reflections are an important part of the course and will be done both through journaling and through sharings in smaller groups.
What is stress and how does it affect our health? And why does everyone keep nagging about rest? Let's deep dive!
Exercises from Self Compassion based therapy
Soft yoga asana and restorative asana to support your body fully
Yoga therapy ball massage to release tension in the body and be more recipient to your bodily signals
Centering and calming breathing exercises that will help you tap into the body and regulate the nervous system
Different kinds of Yoga Nidra and other relaxation techniques
Reflection and journaling exercises that will guide you towards a deeper understanding of yourself and your behaviours?
Sleep hygiene – what is it and why is it important for your health?
With this being said:
A FULL goodie bag of practices to manage stress in your everyday life
What is yoga therapy?
Yoga therapy is the application of yoga practices to alleviate physical and mental health conditions with the view of promoting self-care and encouraging overall well-being.
In Yoga Therapy we are using specific yoga practices and their known benefits to help alleviate or improve mental and physical ailments.
This course will support you to find your way back into your body so you can start making the shifts to live a more peaceful, balanced and healthy life.
Your yoga therapist:
Hi! I'm Ida Farneman; a certified yoga teacher (500 hr), physiotherapy student and a yoga therapist (800 hr). When I'm not in school or out at clinics studying I roam around the streets of Stockholm teaching yoga classes, yoga therapy courses, meeting with private clients and teaching Anatomy at yoga teacher trainings. I also love spending time in nature (cold baths are my thing), having picnics and spending time with my grandma.
I'm a firm believer that yoga is for everybody and can help us feel more centered and connected to ourselves and the world around us. My experience is that through the daily practice of moving, breathing, sharing and reflecting together we can cultivate a deeper connection to ourselves and to the world around us. It is this understanding and exploration of how healing yoga can be that we will work with in our sessions together.
Welcome as you are.
COSTS:
1800 New folks
1440 Members
1200 Online (email to book, hello@yogafolks.se)
Book